Steel fencing now available at Tame Valley Steelstock.
Some items listed below available immediately from stock and others on a maximum of 1 week lead time. Please contact us with your specific requirements.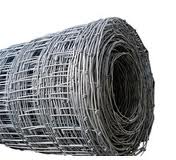 Stock Fencing

A hinge joint fencing suitable for all types of stock and mainly used for sheep and cattle.
Product available from stock: C8-80-15 available in 50M rolls Height 32" in stock
Other sizes and grades available on application
Also available to order: Straining Wire, Barbed Wire and 1050 x 31 Rabbit Netting.
Security Fencing
A pre galvanised welded mesh made with either 10swg or 12swg wire. This product is heavily galvanised before the manufacturing process.
The security fencing is a strong , secure and cost effective product suitable for use in commercial and domestic situations. Available in 2" x 2" or 3" x 1" mesh sizes in heights from 900mm to 2400mm.